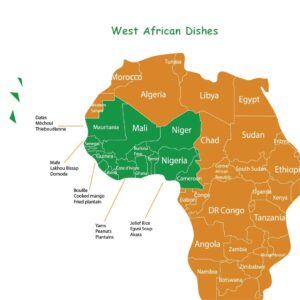 West African recipes have a lot to offer… savory and zesty, with a wealth of textures and flavors. If you've consumed one dish from this region, it's likely to have been rice… fried rice, jollof rice, or as the carb on your plate. West Africans love to cook, common tastes are the seasoning of hot pepper and the amazing textures and flavors of vegetables. Their very traditional African food has flavors on the sharper side, for example, kittely stew. In case you're looking for healthy African recipes, West Africa is undoubtedly worth your attention, with a collection of African Vegetarian recipes to choose from.
Also, expect a vast range of tastes to excite your palate. From Nigeria to Senegal, each country interacts with the same ingredients, the difference is how to put the ingredients together to make a delectable dish. African vegetarian recipes consist of a variety of vegetables and fruits. Although not the fruity part, the melon seed is an example of an ingredient used to thicken stews. To make a complete traditional African food, West Africans serve stews with rice, pounded yam, gari, or other kinds of fufu.
The best way to explore African recipes is through a region's popular dish. Our West African recipes provide a point of entry. Join the party line to eat our way throughout the West African region. Explore with us as we blaze until the belly is full, many amazing healthy African recipes from West Africa using plant-based alternatives.
Grab your cool water and bring washed hands, because we eating. No wahala dey ooooo!
Category:
West
Showing: 41 - 41 of 41 RESULTS
Fast, easy and healthy fry rice dish. Liberians call it Gbarney Quick Service for our own reasons. Kuku jumuku.